Here's a soup recipe that is perfect for a cold fall day and even better with a grilled cheese sandwich! My tomato basil soup is easy to make and huge on flavor. That's because I take the time to oven roast the tomatoes first, making them extra sweet and slightly charred.
Once the tomatoes are roasted, add them to a soup pot filled with broth, cooked aromatic veggies, and a big handful of fresh basil(Trader Joe's has a good price). They key to this tomato and basil soup recipe is adding a couple of teaspoons of honey at the end, that helps balance the acidity of the tomatoes.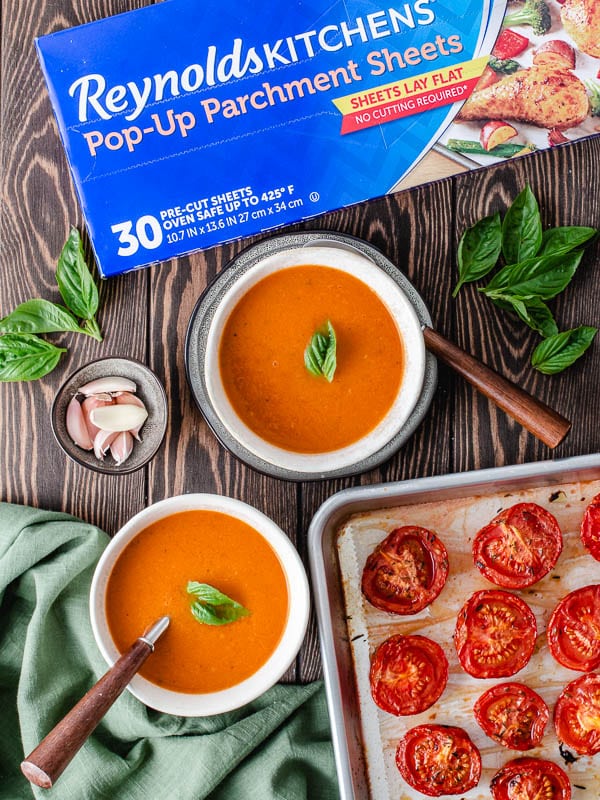 This post is a collaboration with Reynolds Kitchens® Pop Up Parchment Paper Sheets. First off, these sheets are naturally non-stick, greaseproof, and full compostable! Not only do these parchment paper sheets come pre-cut and lay flat naturally, they fit most sheet pans without cutting or folding. The parchment pop up sheets are oven safe up to 425F and make clean up so much easier, especially for this recipe.
How To Make Tomato Basil Soup
The first step for making the best homemade tomato basil soup is roasting 3 pounds of ripe, vine-on tomatoes in a 425F. First cut the tomatoes in half, toss with oil, salt,and pepper, and roast for 45 minutes followed by a 5 minute broil at the end to get them nice and charred.
I really believe this makes the tomatoes extra sweet and adds huge flavor to the soup. While the tomatoes are roasting, saute some onions in a large soup pot along with a pinch of red pepper flakes, thyme, and minced garlic.
Add the roasted tomatoes along with their juices, 1 cup of fresh basil, and 2 quarts of chicken bone broth, stock, or veggie broth. I find that using bone broth adds a deep and rich flavor to this tomato basil soup.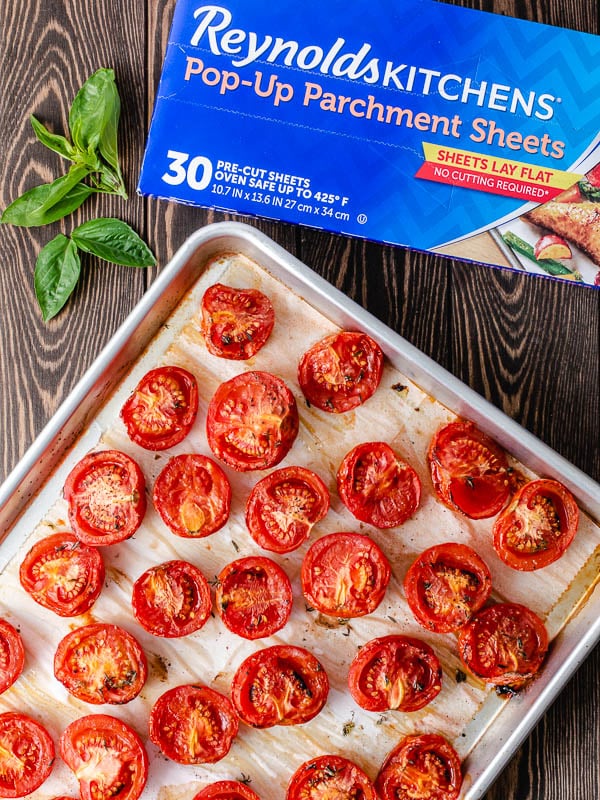 How To Make Creamy Tomato Soup
If you want your tomato basil soup to be extra creamy and rich, add 1/3 cup of organic heavy cream and the end of the cooking process. If you want to keep this recipe dairy free, uses 1/3 cup coconut cream, it won't taste like a pina colada, don't worry!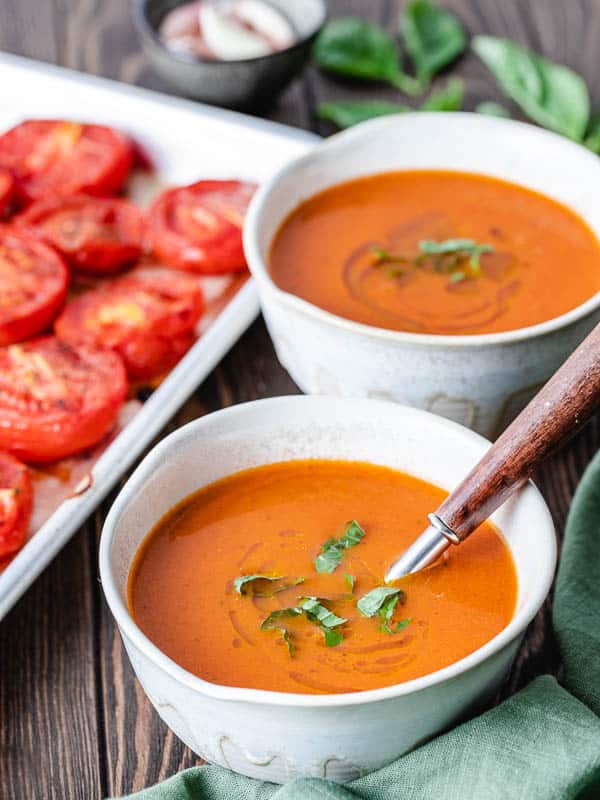 Can You Freeze Tomato Basil Soup?
You can freeze homemade tomato basil soup in an airtight container for 6 months, or it will keep in the fridge for 5 days. The best thing about this tomato soup recipe is that is gets better on day 2 and 3!
Make sure to check out my other soup recipes: