I've got the perfect low carb breakfast recipe for you guys! It's pumpkin spiced, low carb, and exactly what you want to eat on a chilly fall or winter morning, especially if you are on the keto diet. This pumpkin spice hemp heart oatmeal is creamy, dairy free, and incredibly low carb.
If you are looking for more keto breakfast recipes, check out my take on a Sausage McMuffin.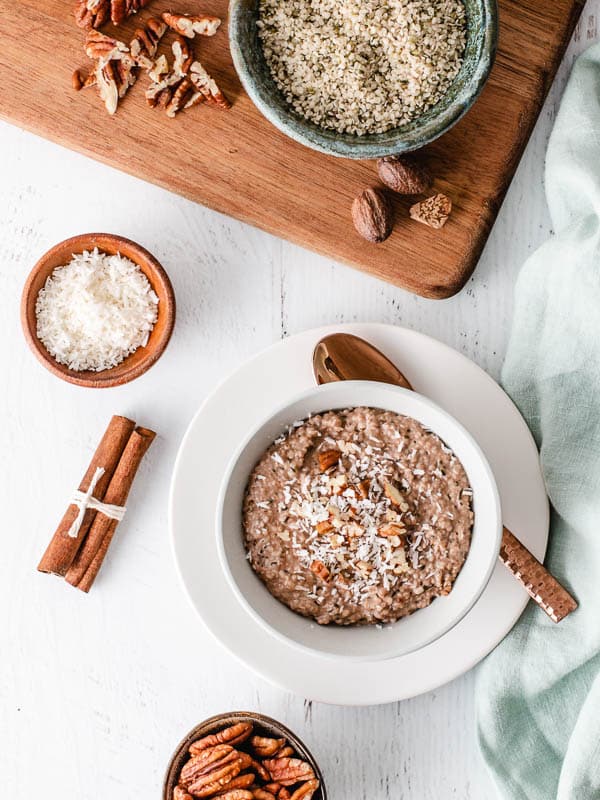 How To Make Pumpkin Spice Low Carb Oatmeal
What makes this oatmeal recipe low carb and keto approved are nutrient dense hemp hearts. These are the hulled seeds of hemp, and not only low carb, but packed with omega-3, iron, and protein! Start off by adding 3/4 cup each of water and full fat coconut milk to a small pot and bringing it to a simmer. To get that pumpkin spice flavor we all know and love, you can either use 1-1.5 teaspoons of pre-made pumpkin spice, or my homemade mix.
For the homemade pumpkin spice, you will need cinnamon, ground cloves, nutmeg, ginger, all spice, and cardamon. Add the spices to the milk along with 1 tablespoon of monk fruit sweetener, that will be our keto sweetener. Simmer the low carb oatmeal for 35 minutes and stir in 1-2 tablespoons of coconut cream at the end to make to super silky.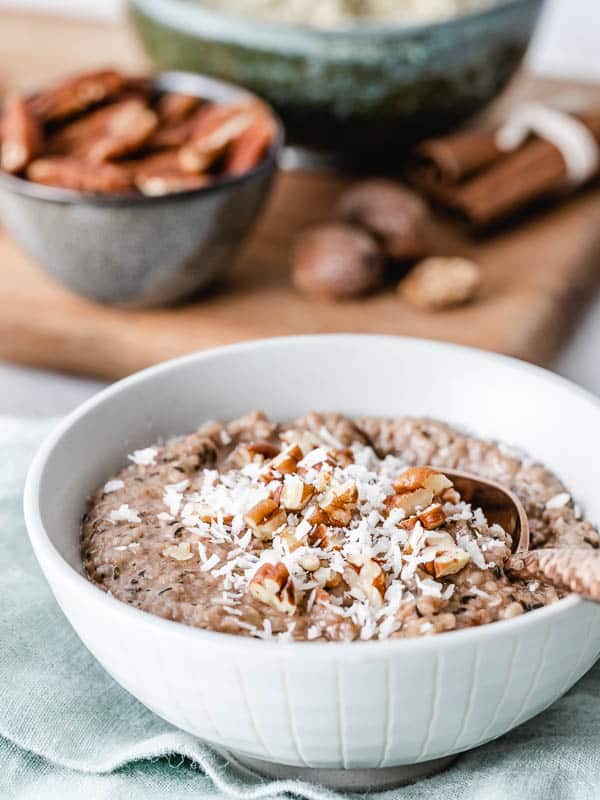 Where Can I Buy Hemp Hearts?
The best place to buy hemp hearts is from Costco, they have a huge 24 ounce bag for about $12. This price is way better than any other grocery store I have seen. Just make sure to store them in the fridge once you open the bag, because the hemp hearts have a lot of fat and will go rancid.
How Long Will Hemp Heart Oatmeal Last?
I recommend multiplying this recipe by five to meal prep breakfast for the week. The hemp heart oatmeal will last for 5 days in the fridge or can be frozen for 3 months. You can also make this is a slow cooker overnight!
Check out my other breakfast recipes: