I made these shrimp taco with buttery salsa sauce on Instagram a couple weeks ago and the FlavCity family demanded the recipe. This really could be the best homemade shrimp taco recipe you have ever made. The shrimp are coated in a homemade seasoning with smoked paprika, the taco sauce is buttery and easy to make, and the slaw is crunchy and creamy.
If it's taco Tuesday, that means you have to make guacamole too. So make sure to check out my ultimate guacamole recipe that I learned in Mexico city.
How To Make The Best Shrimp Taco Recipe
To make shrimp tacos, try to buy large shrimp from the store. Look for 10-20 per pound and make sure they are defrosted. Otherwise it takes 24 hours to thaw them. I think one of the keys to this shrimp taco recipe is my homemade taco seasoning. Add some smoked paprika, cumin, coriander, and ancho chile to the shrimp along with a shot of oil and mix well.
It's important not to add the salt until right before the shrimp go in the hot cast iron pan. Otherwise it will draw out too much moisture and the shrimp won't get crusty. Make sure your cast iron pan is really hot and add 2 tablespoons of avocado oil.
Cook the shrimp for 2 minutes on the first side and only 30-45 seconds on the second side. Shrimp cook really quickly because they have barely any fat. Plus, they will go back in the pan to finish cooking in the shrimp taco sauce.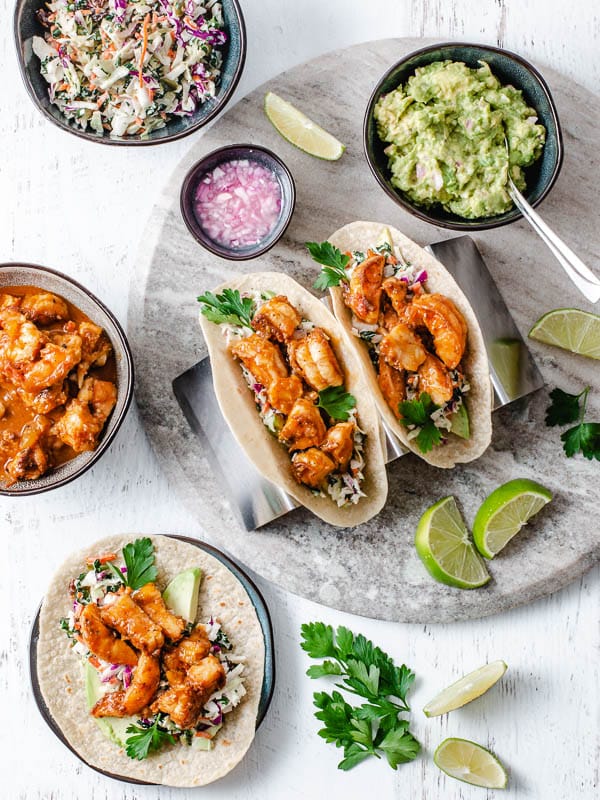 Easy Coleslaw Recipe
I think every taco needs some crunch and this is my go-to easy coleslaw recipe that is so crunchy and tasty. To make life easier, buy your favorite slaw mix and add that to a large bowl with some raisins for sweetness, Mexican pumpkin seeds (peptias) for crunch, and just because I love kale, go ahead and finely chopped 2 leaves of lack/lacinato kale and add it to the bowl.
The dressing for this creamy coleslaw is what sets the recipe apart. Add the avocado oil mayonnaise to a bowl along with lime juice, tamari soy sauce for some umami, a touch of stone ground mustard for a tang, and a dab of prepared horseradish for a touch of heat. Make sure to season with a pinch of salt and pepper and mix well.
This is my go-to coleslaw dressing that is full of flavor and can be used so many different ways! Make sure to combine the dressing and the crunchy coleslaw right before you are ready to serve.
How Do You Make A Shrimp Taco Sauce?
Once the seasoned shrimp come out of the pan, turn the heat to low and add 1/2 cup of bone broth or stock. All the sticky bits from the bottom of the pan are loaded with flavor and the broth release the flavor into the sauce. Then add 1 cup of your favorite store bought salsa. I love Frontera's double smoked tomato salsa.
Cook the sauce until reduced by half and then add 1 tablespoon of butter or ghee (paleo) to make the taco sauce rich and creamy. Chop the shrimp and add them back to the pan along with any juices and mix well. This is my semi-homemade shrimp taco sauce that tastes better than anything you have tried before!
What Are The Best Paleo Tortillas?
If you watch the YouTube video for this shrimp taco recipe, you will see that I am using Siete brand cashew tortillas. I really love everything they make, but if you are looking for a spot on texture and flavor to real corn or flour tortillas, go with the cashew variety of grain free tortillas. No, they did not pay me to say this, but maybe they should!
Check out my other Mexican recipes: