Dessi crushed another paleo baking recipe you guys! this time she made moist and tasty pumpkin muffins that are paleo and free of refined sugars. This pumpkin muffin recipe is so legit, she even peeled and grated fresh pumpkin, yes it's worth it!
These gluten free pumpkin muffins are perfect for a chilly day and pair perfectly with a cup of coffee or tea. I love how these muffins are made without grains, dairy, and she even uses top quality pasture raised eggs, which we string advise you guys use to.
How To Make The Best Pumpkin Muffins
The first thing you will need to do for these paleo pumpkin muffins is beat the eggs with the coconut sugar. This is a low glycemic sweetener that has the most lovely toasted caramel flavor! Mix until the eggs and sugar are light and frothy, then add the extra virgin coconut oil. You can also use avocado oil if you are allergic to coconuts.
For the dry team, mix together the blanched almond flour(obviously buy it at Costco), arrowroot starch, and pumpkin spices. You can buy a bottle of pumpkin spice, or make your own like Dessi did in this recipe. Mix the wet ingredients into the dry and mix well.
What sets this pumpkin muffin recipe apart from others is the use of freshly grated pumpkin. You can buy a pie pumpkin at most stores, then carefully peel and grate 1 packed cup and add it to the mixture along with some chopped walnuts or pecans. Divide mixture into muffin tins lined with muffin liners and bake at 350F for 30 minutes.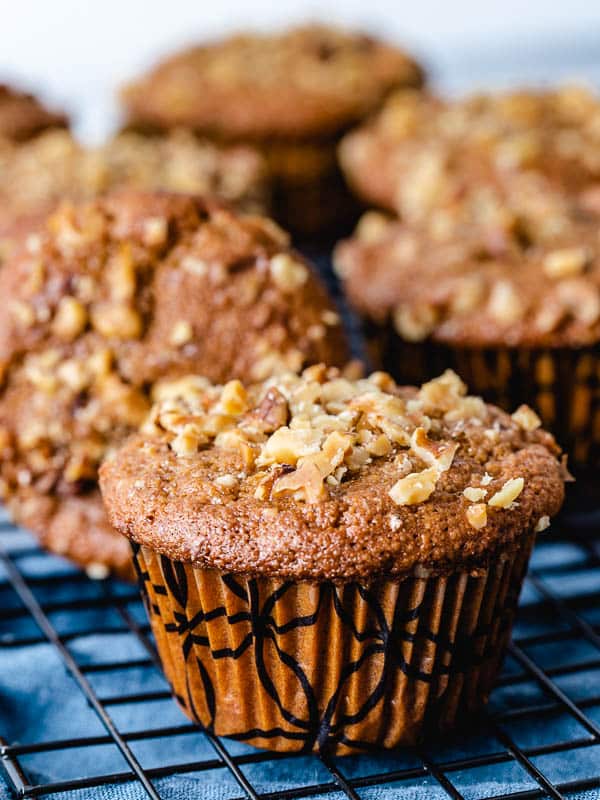 Is Baking Powder Paleo?
All store bought baking powders are NOT paleo because they use cornstarch. You can easily make paleo baking powder by combining 1 part baking soda with 2 parts cream of tartar. You can find a bottle of cream of tartar at most grocery stores, it's actually the leftover residue inside wine barrels.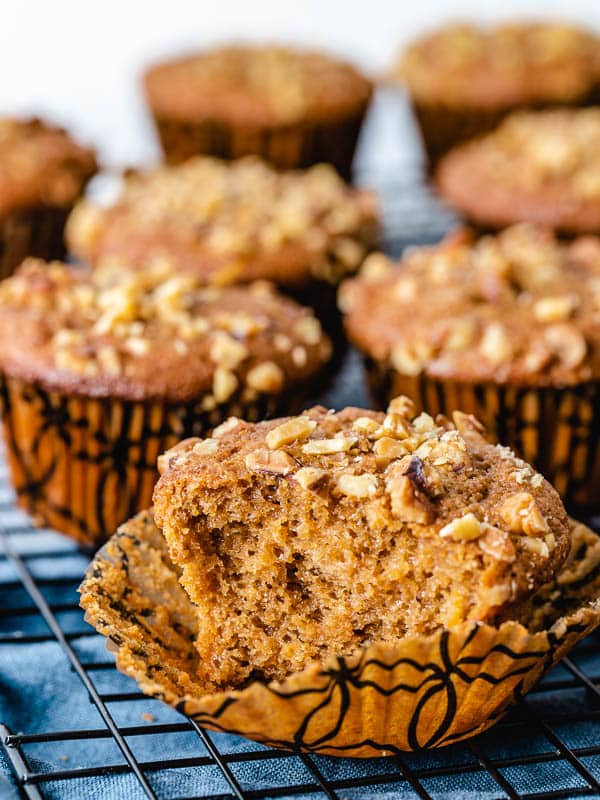 How Do You Make Muffins Gluten Free?
One of the best flours to use for gluten free baking is almond flour, because it's not a simple carbohydrate that will spike you blood sugar like most starchy gluten free flours. For this pumpkin muffin recipe, you will need 1.75 cups of blanched fine almond flour and 1/3 cup of arrowroot or tapioca starch.
When buying gluten free flour mixes, to to chose ones that have complex gluten free grains, like brown rice, almond flour, amaranth, quinoa, buckwheat. If you can't find a good one, you can make your own at home.