Dessi put a twist on a classic amaretti cookie recipe but made it paleo and gluten free. The cookie recipe is so easy to make and only has a few ingredients.
Make sure to also check out Dessi's paleo Bulgarian honey cookies.
How To Make Amaretti Cookies
To make these amaretti cookies, start off by beating the egg whites in a bowl with a pinch of salt and 1/2 a cup of maple syrup. To drive home that almond flavor, add just 1/2 a teaspoon of pure almond extract almond with vanilla extract and mix.
Add 2.5 cups of almond flour and mix using a spatula. We like to buy the big 4 pound bag at Costco, they have the best price ever at $4.20 per pound. Allow the batter to rest 15 minutes at room temperature so the almond flour can hydrate.
Scoop the cookies, and roll into balls. Beat one egg white in a bowl and add 1 cup of sliced almonds that have been chopped into another bowl. Roll the dough balls in egg white, shake off excess, and roll in the almonds. Repeat with remaining dough balls and place on a parchment lined sheet tray.
Bake for 30-33 minutes or until deep golden brown. Allow to rest and enjoy.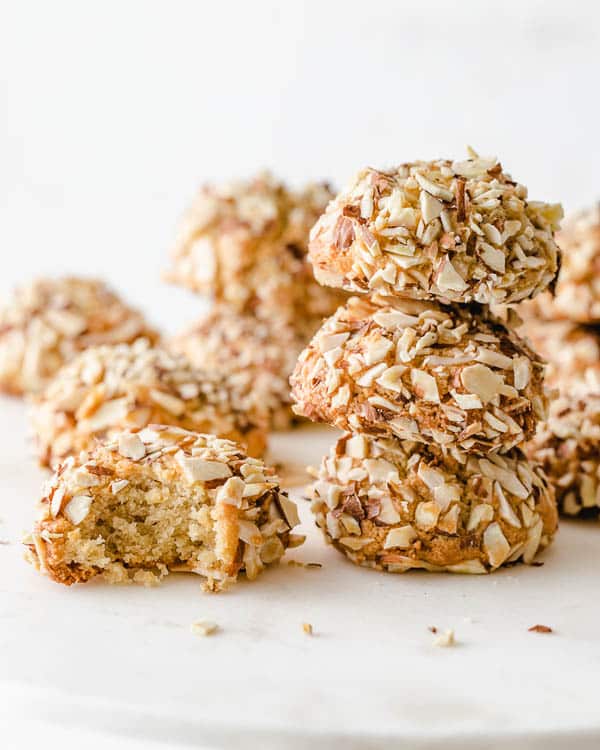 How Should I Store Amaretti Cookies?
Once cookies are cooled down, store in a zip-top bag in the fridge for 3-4 days. You can also freeze the cookies for 3 months and thaw when ready to enjoy. You can warm the cookies in a 300 degree F oven for 3 minutes if desired.
Check out more cookies recipes: