Dessi grew up eating medenki in Bulgaria – soft honey cookies half dipped in chocolate. She wanted to share the recipe with you guys, but make these cookies gluten free, dairy free, and paleo. The texture of these honey cookies are fantastic, soft and chewy, and they go great with a cup of coffee or tea.
Make sure to check out Dessi's chocolate date brownie recipe too. They are so good.
How To Make Gluten Free Honey Cookies?
The easiest way to make these cookies is in a small food processor. Add the almond flour along with the remaining dry ingredients and pulse a few times to mix. In a separate bowl, whisk together the egg, melted coconut oil, vanilla, and honey. To make these cookies dairy free, Dessi used virgin coconut oil, and she used fine blanched almond flour to make them gluten free.
Add the wet ingredients to the dry in the food processor and mix very well. You don't have to worry about over-working the batter since there in no gluten. Use a cookie scoop and form the dough into balls and place on a parchment lined sheet tray. Bake in the oven for 12-14 minutes. The cookies will still be soft to the touch, but will harden slightly when cooled. Dip cooled cookies in melted chocolate and allow to dry.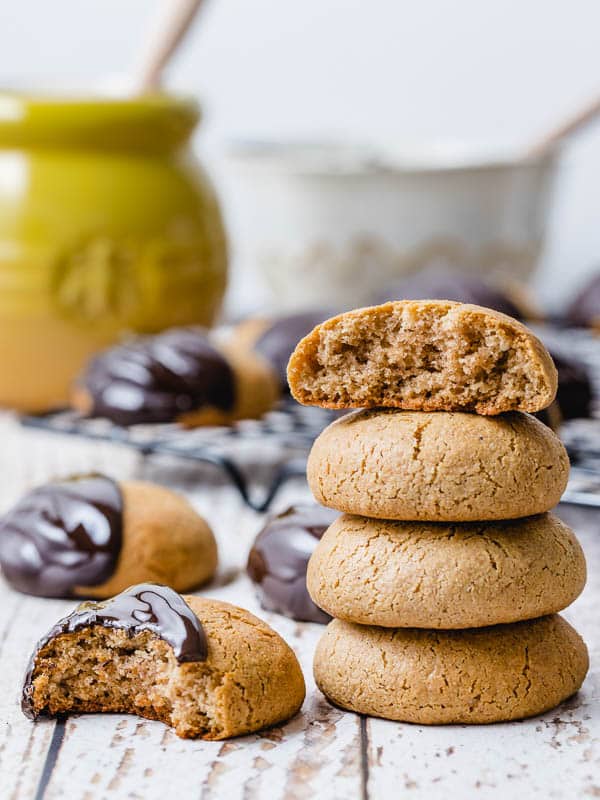 Can I Make Cookies With Coconut Flour?
Coconut flour is very dry and will make the texture of these cookies very crumbly. You would have to change the quantities of the ingredients to make it work, so don't recommend using it.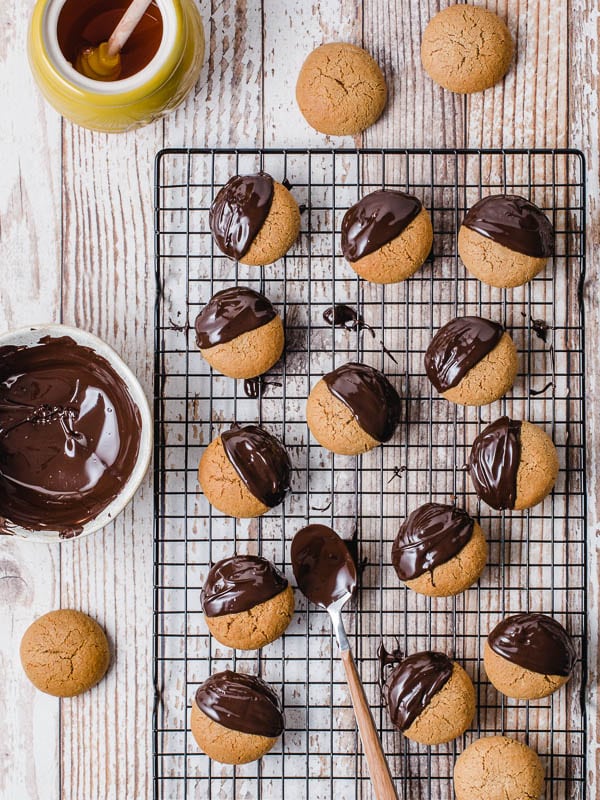 Can I Freeze Gluten Free Cookies?
Yes, these honey cookies freeze well for 3 months in an air tight container. Thaw on the counter-top or in a 250 degrees F oven for 5 minutes. You can also store these on the counter for 1 day or in the fridge for 3 days.
Make sure to check out Dessi's other dessert recipes: