Dessi came up with this shortbread cookie recipe the other day and not only is it tasty, but so easy to make. The shortbread cookies are gluten free and we used some prime time melted paleo chocolate chips to dip the cookies into.
You can make these shortbread for the holidays and even give some away as a gift, you will love them as much as we do. After you make this one, try Dessi's gluten free key lime pie recipe.
How To Make Gluten Free Shortbread Cookies
Mix the almond flour with tapioca starch and salt in a bowl. Remember that almond flour is very different from almond meal, meal has the skins on and is not as finely ground. Grab a big bag of almond flour at Costco or Sam's Club, they have the best price by far!
In another bowl, mix the room temperature butter with maple syrup. Add to the almond flour and use a fork to combine everything together then switch to using your hands. There is a great video of Dessi and Rose making these cookies on the FlavCity Facebook page!
Chill the dough then roll it to 1/4 inch thick and cut out cookies using your favorite shapes. Bake for about 20 minutes, or until the cookies have a slight golden brown color on the edges and remove. The cookies will taste best if you let them sit at room temperature for 1 hour before eating because the almond flour will dry out a bit.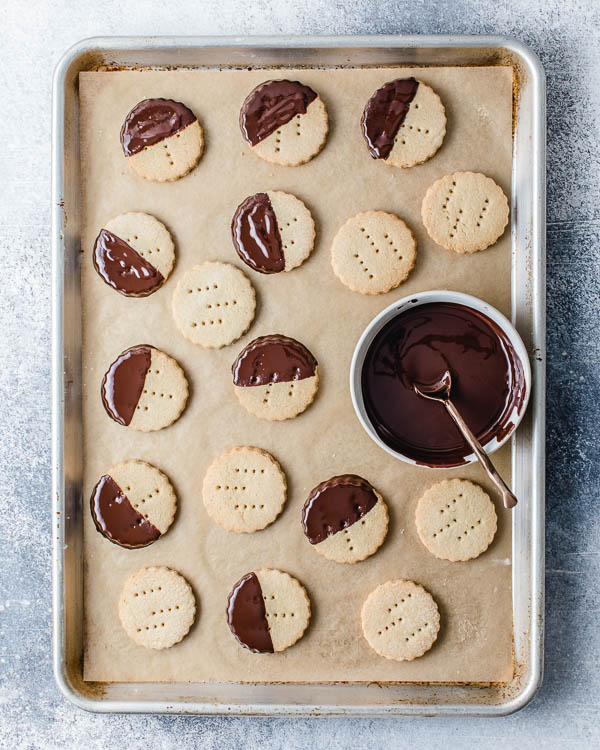 How To Store Shortbread Cookies
Once the cookies have been baked, they will store at room temperature for 3 days. Avoid storing cookies in the fridge, as the moisture will make the texture very soft.
You can prepare the shortbread cookie dough the day before and keep it in the fridge until ready to roll and bake.
Check out More of Dessi's desserts: