This roasted cauliflower curry is the ultimate side dish. The key is roasting at high temperature so the edges of the cauliflower florets get charred, but the inside remains creamy. Toss the roasted cauliflower in a coconut curry sauce that will blow you away and you're set.
Today's recipe is a collaboration with California Walnuts. February is American Heart Month and walnuts are a key part of a heart healthy diet. Walnuts have more ALA Omega-3(2.5 g/oz) fatty acids than any other tree nut and can be used for savory or sweet recipes. A one ounce serving of walnuts has 4g of protein, 2g of fiber and a good source of magnesium (45mg). Their unique texture and flavor make for the perfect addition to this plant-based side dish.
For more California Walnut recipes and information on where to buy them, check out their website.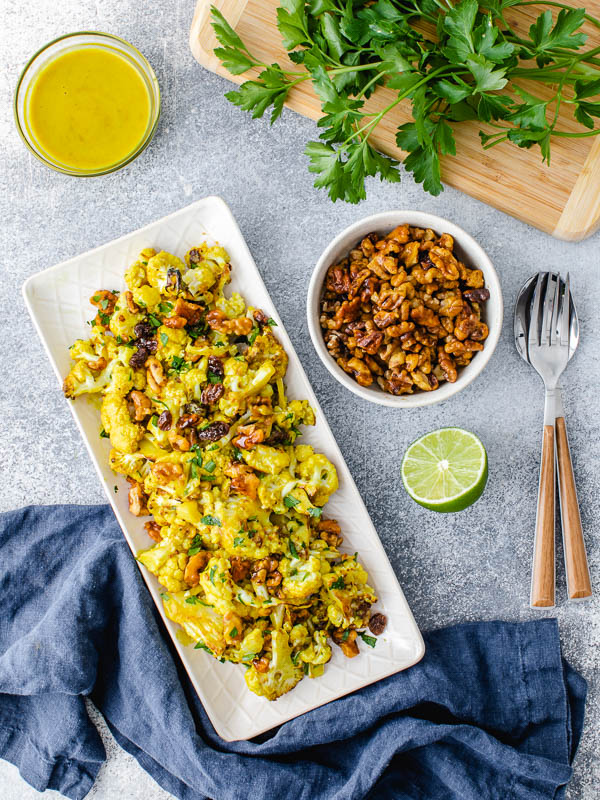 How To Make Roasted Cauliflower Curry
Preheat the oven to 450F and cut the cauliflower into large bite size pieces. When you roast cauliflower at high temperatures, the flavor is nutty and creamy, even picky eaters will approve.
Roast the cauliflower for 35 minutes then remove from the oven. Meanwhile, toast the walnuts in a medium size pan with 1 teaspoon of ghee and some smoked paprika for about 5 minutes. The walnuts will add nice texture to the dish, but you might want to make extra because they are a great snack. If you're saving some for snacking later on, make sure you store the walnuts in the fridge in an air-tight container (they can absorb flavors of other foods, so don't forget this step!).
Make the coconut curry sauce by cooking the onions, garlic, and ginger in a medium size pan for 5-7 minutes. Add the turmeric and cook for 1 minute then add the coconut milk. Cook until reduced by half and then blend until smooth and creamy.
Toss the roasted cauliflower with the curry sauce and toss with the toasted walnuts, raisins, and chopped parsley.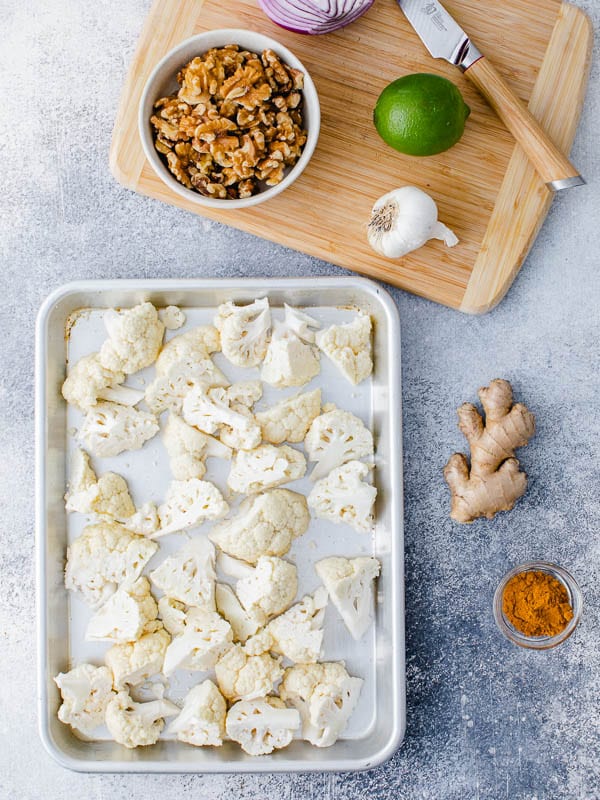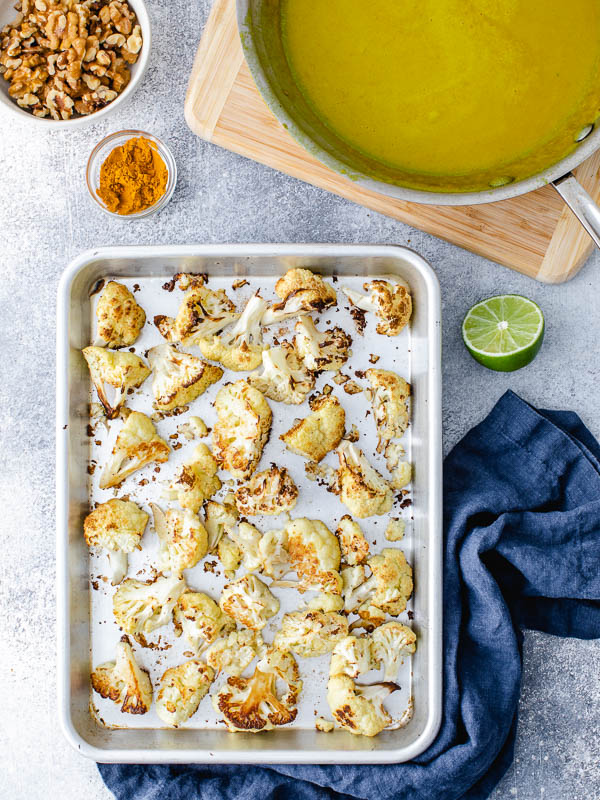 How Do I Make Curry Sauce?
Most curry sauces are made with dairy, sugar, and processed oils. The coconut curry sauce is made with full-fat coconut milk, no added sugar, and the texture is smooth as silk.
The key to getting the curry sauce dark yellow is to use a curry powder rich in turmeric. If you can't find one, use any curry powder and add 1/2 teaspoon of turmeric.
To make the texture of the curry sauce very smooth, blend it once it has reduced by half. I used a stick blender, but anything will work. The final touch is a squeeze of lime juice, which cuts through the richness of the coconut milk perfectly.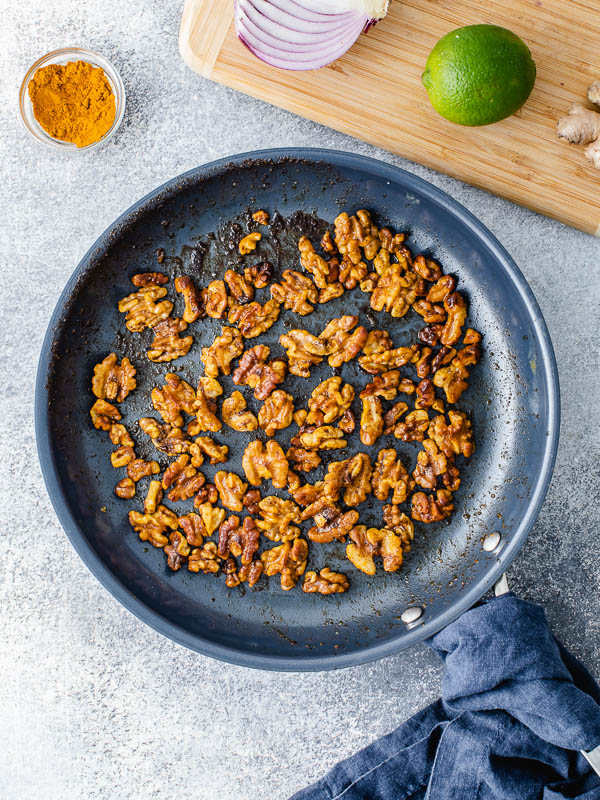 Check out my other cauliflower recipes: