Here's a recipe from our new 5 Ingredient Semi-Homemade Meals cookbook. It's amazing how easy this recipe is, but the flavors are off the charts. Pressure cook the organic chicken thighs, roll them in grain free tortillas, top with sauce and cheese, and bake.
The beauty of this chicken enchilada recipe is that I show you how to buy the best quality ingredients and products from the grocery store, just like every other recipe in the cookbook.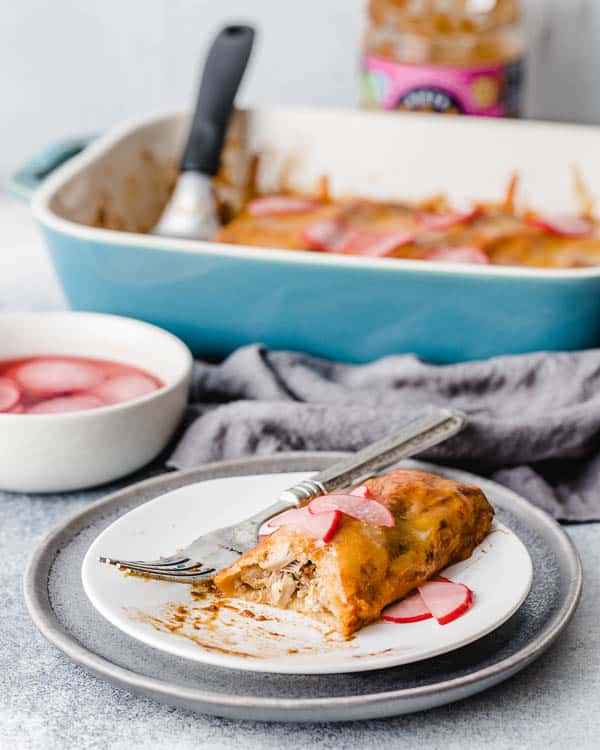 How To Make Chicken Enchiladas
To make this easy chicken enchilada recipe, add 1.5 pounds of organic boneless and skinless chicken thighs to a pressure cooker with some good quality enchilada sauce and water. Pressure cook on high for 12 minutes. The chicken thighs will be incredibly tender and easy to shred.
Dip the almond flour tortillas in the reserved cooking liquid from the pressure cooker, fill with some chicken, and roll closes. Spread some of the enchilada sauce on the bottom of a 9×16 baking dish and fill it in with enchiladas seam side down.
Top with more enchilada sauce, shredded cheese, and bake covered in a 400F oven for 35 minutes. Remove foil, and broil for a few minutes until the cheese is bubbly.
Allow the chicken enchiladas to cool a few minutes before serving.
Here are the store bought best in class ingredients I used for this chicken enchilada recipe.
Siete enchilada sauce is the cleanest one on the market, either red or green. Whole Foods 365 makes a sauce that is clean also.
Siete almond flour tortillas or La Tortilla Factory makes a tortilla that uses both organic corn and wheat, it has great texture and flavor.
Kerrygold Dubliner cheddar from Costco. One of the few cheeses made from grass-fed milk.
Check out my other clean eating Mexican recipes: