Dessi made this key lime pie recipe on the FlavCity Instagram a couple weeks ago, and the requests came flooding in to post it. The key lime pie is officially ready to makes its debut, and my favorite part is the gluten free almond flour crust with grass-fed butter.
The crust is nutty and buttery and the filling is perfectly sweet, tart, and creamy. You can find key limes at Whole Foods, they taste very different from regular limes, which many recipes seem to use.
How To Make Key Lime Pie
Make the filling of the key lime pie by warming some full fat coconut milk and then tempering it with the egg yolks and freshly squeezed key limes. You will need to zest the key limes before juicing them, and let the record show, it takes some time, so find a seat!
The only sweetener used in the key lime filling is maple syrup, which is Dessi's favorite paleo sweetener right now. Once the mixture is tempered, it will need to chill in the fridge for at least 4 hours, overnight is better, so the gelatin can release its thickening power.
To make the gluten free almond flour crust, toast the flour in a dry pan until golden brown. Then add some melted grass-fed butter and coconut sugar, and press into a tart pan. Bake until deep golden brown and let cool.
Whip the key lime filling with a hand mixer and pour it in the almond flour crust and transfer to the fridge for a few hours to set.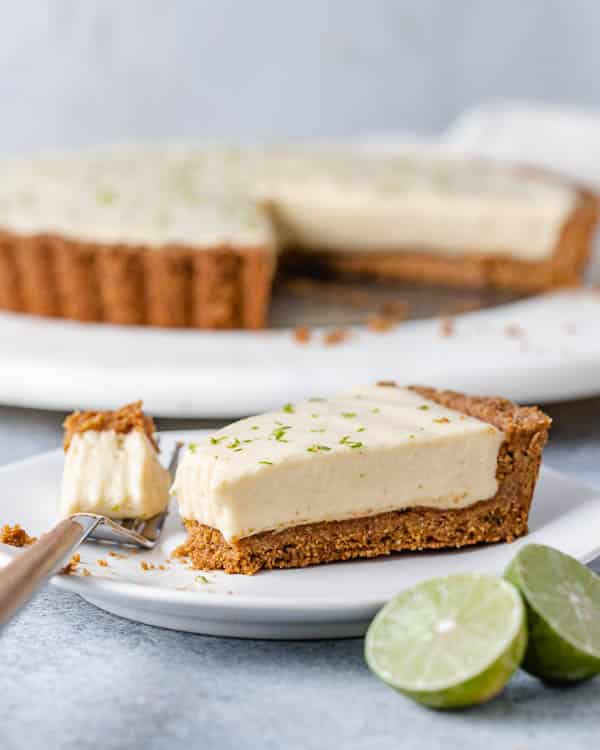 Can I Make Dairy Free Key Lime Pie?
Key lime pie is usually made with sweetened condensed milk, but this recipe uses full fat coconut milk and gelatin. Never bother baking or cooking with reduced fat coconut milk, it's just a watered down version and is a waste of money.
You must bloom the gelatin in water before adding to the coconut milk and egg custard to set in the fridge. The texture is creamy and jiggly, and its totally dairy free.
Make sure to check out more of Dessi's dessert recipes: