Dessi made some really tasty gingerbread cookies that are gluten free and paleo. Best of all, the dough is the same as her shortbread cookies, but with some spices and molasses added.
These gingerbread cookies are really easy to make and sweetened with maple syrup, so pretty clean for a Christmas cookie. After you try these, you may want to make Dessi's chocolate chip cookie recipe.
How To Make Gingerbread Cookies
Add some almond flour to a large bowl with the tapioca starch, cinnamon, ginger, and cloves. The almond flour makes the gingerbread cookies gluten free, and you can even make them keto if you swap maple syrup with keto maple syrup from lakanto or birch benders.
Add 5 tablespoons of room temperature kerrygold butter along with the maple syrup and combine everything with two forks. Switch to your hands and really squeeze the dough together well. Wrap and chill the dough in the fridge for at least 1 hour, or even overnight.
Roll the gingerbread cookie dough to 1/4 thick and cut out with shapes. Bake at 325F for 18 minutes then allow to cool before decorating with melted white chocolate chips.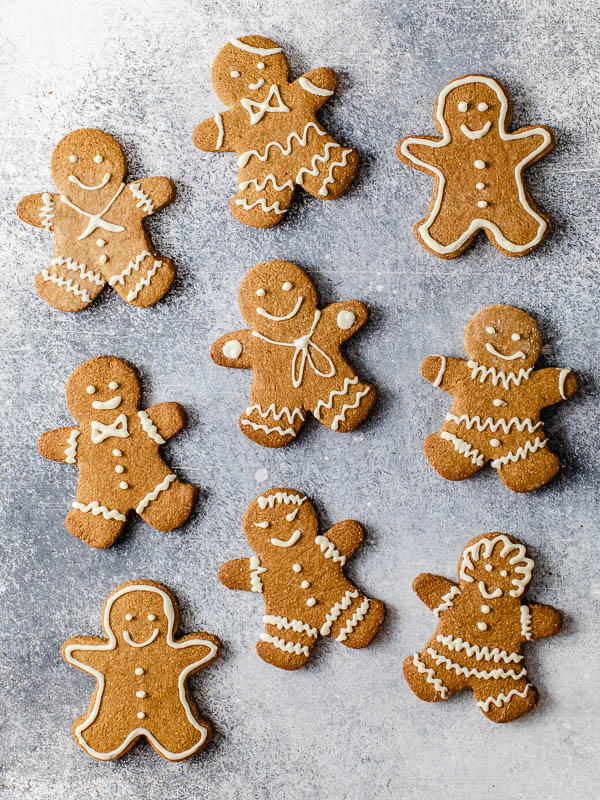 Can I Make Gluten Free Gingerbread Cookies?
It's very easy to swap all-purpose flour with almond flour and make gluten free gingerbread cookies. You can't swap the flour 1:1, but just combine 2.5 cups of almond flour with 3 tablespoons of tapioca or arrowroot starch.
It's very important to let the dough rest for at least 1 hour, but ideally a few hours. The almond flour needs to hydrate so it does not fall apart.
Check out more of Dessi's dessert recipe: