Here is the green bean casserole I made on Facebook and stories the other day. It's a Bobby Approved version with a homemade cream of mushroom soup made out of cashews.
The entire green bean casserole is actually vegan, but no one will even notice. This is the perfect clean side dish for your holiday table.
Make sure to also check out my low carb keto cauliflower mash.
How To Make Green Bean Casserole
Start off by blanching the green beans in salted boiling water for 3 minutes. Immediately drain and transfer the green beans to an ice bath for 2 minutes to stop the cooking process.
Season the green beans with a pinch of salt and then pour over the cashew cream of mushroom soup mixture. Mix well and transfer to a baking dish. Cover well and bake at 375F for 25 minutes.
Remove the cover on the baking dish, top with pecans, and bake another 10 minutes. Serve and enjoy!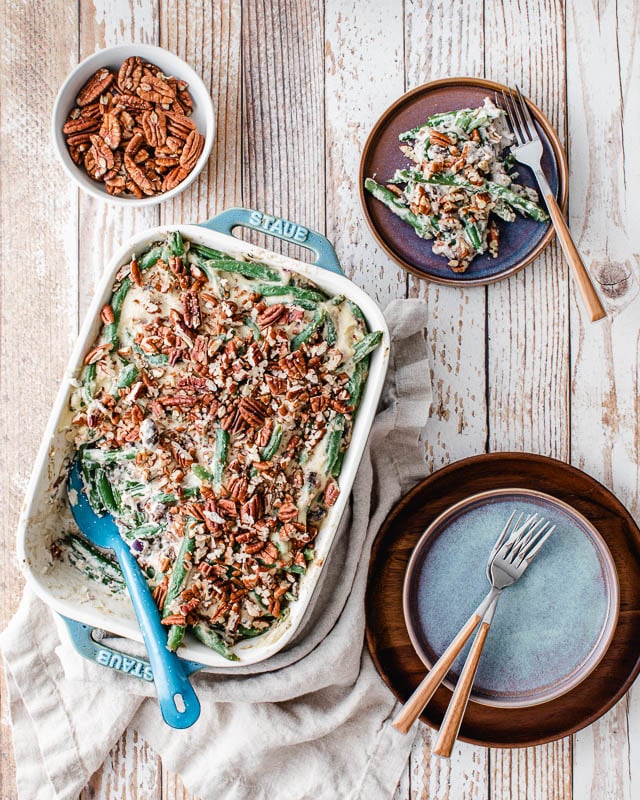 How To Make Homemade Cream of Mushroom Soup
I made this cream of mushroom soup from cashews, the whole thing is vegan. Start off by soaking 2.5 cups of cashews for at least 2 hours and then boiling for 10 minutes with 3 cloves or garlic.
Meanwhile, saute just over one pound of cremini mushrooms in a large pan for 10 minutes. Add the onions, garlic, thyme, and cook another 5 minutes. Set aside.
Drain the cashews ad garlic, place in a blender with some extra virgin olive oil, nutritional yeast. lemon juice, salt, and blend on high. Keep adding enough of the boiling liquid to loosen the sauce until its pour-able.
Pour the sauce into the pan with the mushrooms and mix well. Check for seasoning and adjust. This vegan cream of mushroom soup tastes better than the real deal, no one will know the difference.
Make sure to check out some of my other holiday recipes: