Dessi made these baked pao de queijo on stories the other week and they were a big hit! I got loads of DM's asking for the recipe, so here it is.
These Brazilian cheese rolls are called pao de queijo. It's a gluten free cheese rolls that's soft and chewy. We have another version of this recipe that's mixed in the blender, but to be honest, this one is better!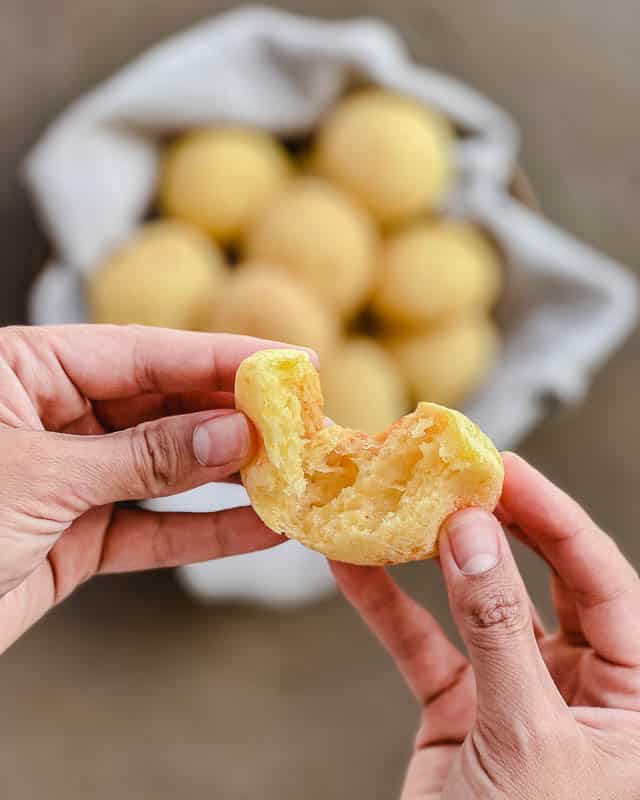 How To Make Pao De Queijo
Start of by preheating the oven to 350F. Go ahead and mix the sour tapioca starch in a bowl with the baking powder and salt. It's best to use real Brazilian starch for this recipe, you can grab it on amazon.
Heat the full fat coconut milk with the avocado oil in a medium size pot. Pour the hot mixture over the starch and mix well with a wooden spoon. using a hand mixer, beat in one egg at a time. Add the cheese and continue to beat.
Line a sheet tray with parchment and use a cookie scoop to form dough balls. Bake the pao de queijo in the oven for 35-40 minutes, or until the bottom of the rolls are golden brown. Let cool and enjoy!
Make sure to check out more bread recipes: