The holiday season is all about serving traditional dishes to your family and friends, and this prime rib roast is a showstopper of a recipe. The juicy and tender prime rib is coated in pecans, herbs, mustard, and served with a creamy and cool horseradish cream sauce. I will show you just how easy it is to cook a prime rib recipe that will satisfy a crowd.
The recipe is a collaboration with my friends over at the American Pecan Council. We want to encourage you to think beyond pecan pie this holiday season and take advantage of the full versatility of The Original Supernut! Pecans are super nutritious, the only major tree nut indigenous to America, and offer a crunchy, buttery texture that can complement so many holiday recipes.
It's been a tough year for those farmers, so this holiday season, American Pecans is launching an entertaining variety show, The Super American Pecan-a-Thon, to encourage people to #PledgePecans – that's a promise to add one pecan-friendly recipe beyond the pie to your table this holiday– and support local pecan growers and their families.
Tune-in on November 20th at 10 a.m. EST on AmericanPecan.com/PledgePecans to see the show staring actress and comedian Wendi McClendon Covey alongside American Pecan growers and yours truly! And be sure to take the #PecanPledge and incorporate more pecans into your holiday recipes this season – like this prime rib recipe!
Check out my other holiday inspired recipes like this pecan crusted green bean casserole and my dry brine citrus turkey.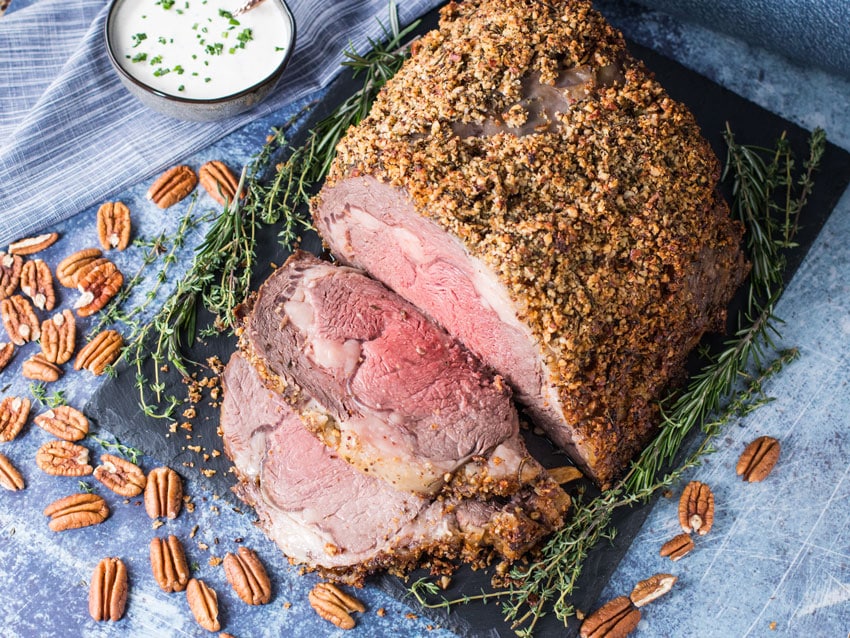 How Do I Cook A Prime Rib Roast?
The first thing you need to do is buy a 4-10 pound prime rib from the grocery store, depending on how many people you want to feed. You can buy a boneless prime rib roast like I did for this recipe because it is so easy to make. Or you can buy a prime rib with the bones attached. Or better yet, have the butcher cut the bones off and tie them back on, which makes for easy carving after it is cooked.
An 8-pound boneless prime rib roast will serve 10-14 people. It is very important that the prime rib is room temperature before baking it in the oven. Cold meat will cook unevenly in a hot oven, so allow the prime rib roast to sit at room temperature for 1-2 hours. It is perfectly safe.
To make the pecan and herb topping for the prime rib, add the pecan pieces, panko bread crumbs, butter, Dijon mustard, and herbs to a food processor and pulse to combine. Season the prime rib with a generous – and I mean generous amount of salt and pepper – all over. Then cut little slits in the fat cap to stuff the garlic cloves in. This will infuse lots of flavor in the prime rib while it cooks.
Rub some mustard all over the top of the prime rib and then apply the pecan and herb topping – the mustard will help the topping stick. Place a digital probe thermometer into the deepest part of the prime rib and cook in the oven for 2-2.5 hours or until the internal temperature reaches 120 degrees F for medium-rare.
Cover the prime rib loosely with tin foil for the first hour to make sure the topping does not burn. You can always put it back later on if the topping is getting to much color.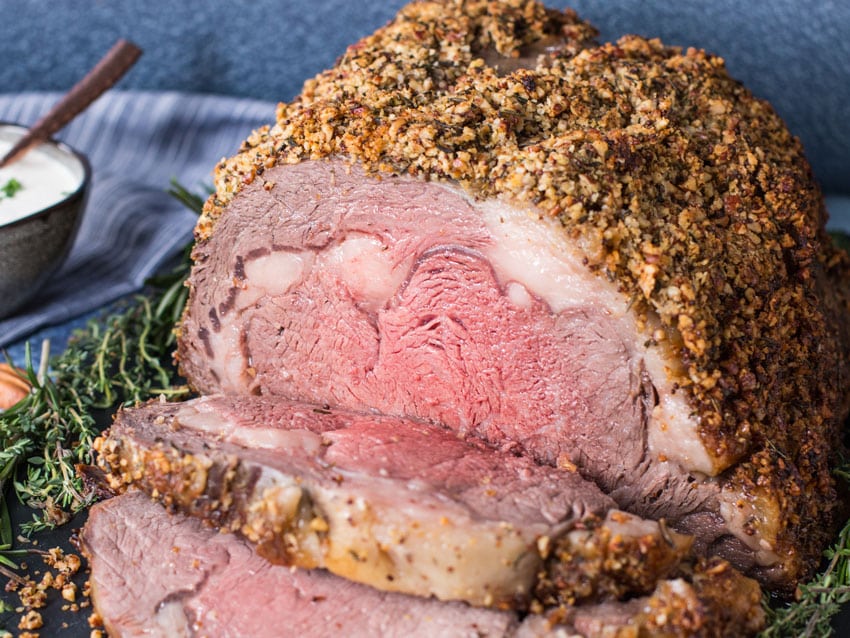 How Long to Cook A Prime Rib?
A prime rib roast will take about 20 minutes per pound. But you want to be sure to use a digital probe thermometer and pull the roast 10 degrees before it reaches your desired cooking temperature. This is something called carry-over cooking. After you take a prime rib out of the oven, the heat inside is still very hot, so it will keep cooking and the temperature will rise another 10 degrees. If you pull the prime rib at 120 degres F, it will carry over to 130 degrees F which is perfectly medium-rare.
How To Make Horseradish Cream Sauce For Prime Rib
Horseradish cream sauce is a traditional accompaniment for prime rib, and the flavors compliment each other. To make it, all you have to do is combine 1 cup of full fat sour cream with ¼ cup prepared horseradish, 1 tablespoon Dijon mustard, the zest and juice of a lemon, fresh chives, and salt and pepper. Mix well and adjust seasoning to your taste.
The horseradish cream sauce can be made one-day ahead of time and it actually tastes better the longer it sits.
Do I Need A Roasting Pan To Cook A Prime Rib?
No, you don't need a roasting pan. Just set a cooling rack or cookie sheet in a sheet tray and roast it in the oven. You need something with a little lift to it so air can circulate around the prime rib and allow it to brown evenly.
Make sure to check out more of my holiday recipes: