Now that winter is here, we need some hearty comfort food recipes that will keep us warm. This chicken cacciatore is so easy to make and everything happens inside the instant pot, which makes for an easy clean up. The chicken thighs are pressure cooked with white wine, low carb veggies, and good quality canned tomatoes.
Just 10 minutes in the instant pot will yield tender, falling off the bone chicken drumsticks. Take the leftover tomato sauce that has been infused with all of those yummy flavors and cook the cauliflower florets for just 1 minute, and dinner is done. If you want some other instant pot recipes, check out my chicken pot pie and winter minestrone soup.
How To Make Chicken Cacciatore In The Instant Pot
Making chicken cacciatore in the instant pot is easy. First season the chicken thighs with a generous amount of salt and pepper and brown on the highest saute setting. This will add another layer of flavor to the dish. Once that is done, take the chicken out and add the onions, zucchini, celery, and oregano. Take the time to cook the veggies down. This will take a good 10 minutes.
Next up add some garlic and tomato paste.  I love cooking tomato paste for a minute, it adds a rich flavor to the chicken cacciatore. Then add the chicken back to the instant pot along with a can of crushed Italian tomatoes, chicken stock, and white cooking wine. Season everything with another 1/2 teaspoon of salt and set the instant pot to pressure cook on high for 10 minutes.
After 10 minutes of cooking time is up, let the Instant Pot sit for 10 minutes, and then carefully release the pressure. You will notice how tender the chicken drumsticks are and how the meat has pulled back from the bone. Remove chicken and place the cauliflower florets in the Instant Pot with the remaining tomato sauce.
Set pressure cook to high for zero minutes. I know it sounds weird, but by the time the pressure has built up, the cauliflower has cooked through and longer, it will be mushy.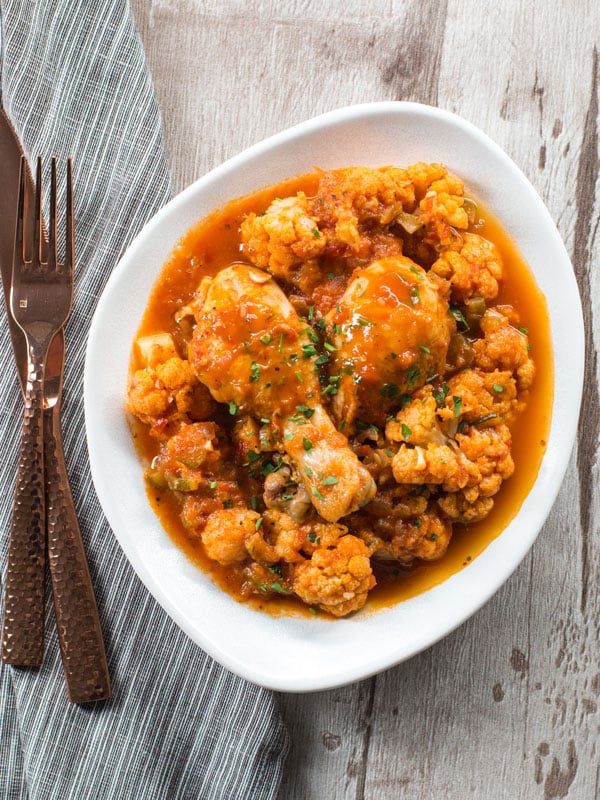 Can I Make Chicken Cacciatore In The Crock Pot?
You can make chicken cacciatore in the crock-pot by following these exact instructions and setting the cook time to 7 hours on low. The chicken will be tender and the sauce will be full of yummy flavors. If your crock-pot does not have a brown setting, you can skip that step and just put everything in the pot and start slow cooking.
What Should I Serve With Chicken Cacciatore?
It is nice to have some fresh and crunchy vegetables with any type of dish that has been pressure cooked in the Instant Pot or braised low and slow. This recipe comes with cauliflower, but you could also serve it with crispy brussels sprouts made in the pan or roast spaghetti squash.
Make sure to check out more of my winter comfort food recipes: