There are lots of hummus recipes on the google machine, but have you ever tried swapping chickpeas with beets? Not only does the flavor of this beet hummus look stunning, but the flavor is bright and fresh, and the texture is velvety and smooth. If you want to impress your sweetheart, definitely give this beet hummus a try!
I made this hummus as part  of my clean eating meal prep Chicken Pita Meal Prep and it's paired with spice crusted chicken thighs and herby paleo flatbread.
How To Make Beet Hummus?
As tempting as it may be to buy pre-made steamed beets from the store, don't do it! Something magical happens when you roast red beets in a 400F oven for 1 hour. The natural sugars caramelize and the flavor intensifies. Just make sure to have a pair of food-safe gloves to rub the skin off and use a paper towel. It's a messy job, but someone has to do it.
After the beets have been roasted and peeled, toss them in a blender or food processor with tahini, lemon, garlic, spices, extra virgin olive oil, and salt. Blend on high until smooth and creamy. The key is to finely grate the garlic and let it sit in lemon juice for 5-15 minutes, this will remove the raw flavor from the garlic.
You almost always need to check for seasoning and adjust with this recipe. It will always need a bit more salt, maybe some lemon, juice, or perhaps more oil.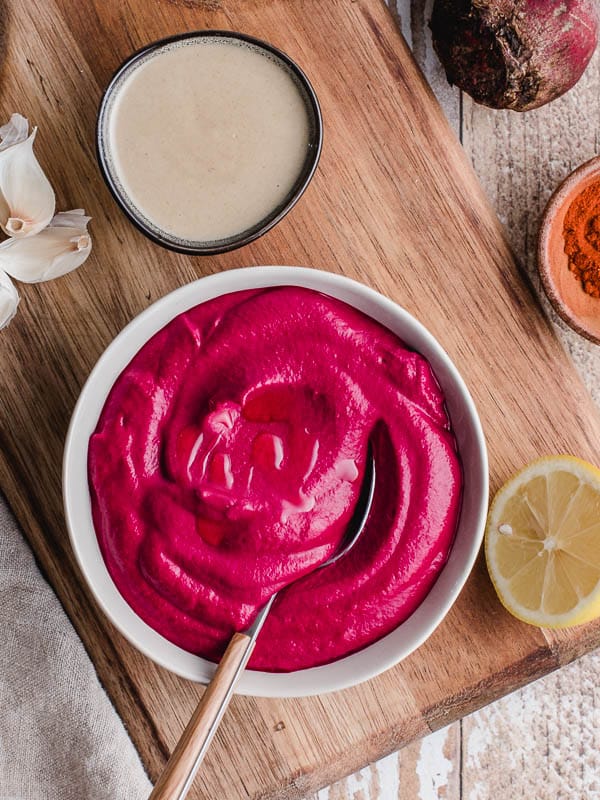 How To Cook Beets
Some people like to boil or steam beets, but I like to roast them in a hot oven for maximum flavor. Beets ave a good amount of natural sugar, so if you boil them, the sugar drains into the water. But if you roast them, the sugars intensify and get super yummy.
Preheat your oven to 400F, place the beets on a sheet tray, add 1/4 of water, a shot of olive oil, and cover tightly with foil. Roast for 1 hour and then carefully remove and peel back the foil making sure the steam does not burn you. To check if the beets are cooked, insert a thin knife, and if it goes in and out with ease they are done.
Allow to cool, then rub between two pieces of paper towel and the skin comes right off. I recommend  wearing food safe gloves for this task, otherwise your hands will turn purple!
Make sure to check out my other side dish recipes: