Fresh off the heels of Dessi's low carb cauliflower pizza crust recipe, we wanted to follow that up with a another veggie version. You know those broccoli and kale pizza crust from Trader Joe's, if you look at the ingredients it's kind of scary! They are loaded with corn flour and starch, potato starch, and have a whopping 90 grams of carbs. Plus, they don't even get crispy when baked in the oven.
Dessi came up with a low carb and paleo version of Trader Joe's broccoli and kale pizza crust recipe that gets super crispy and tastes way better. Here's how you make this tasty broccoli crust pizza.
How To Make A Low Carb Broccoli Pizza Crust
The first thing you want to do is get a couple packs of organic frozen broccoli. While I normally don't like eating frozen veggies, they come in handy for making this pizza crust recipe very crispy. When you freeze veggies, ice crystals form and they get soft and mushy. Which makes them easy to squeeze and release that excess water. Something you can't do with fresh broccoli or cauliflower.
After running the broccoli through a food processor fitted with a grater attachment, or finely chopping it, it's time to bake it in the oven.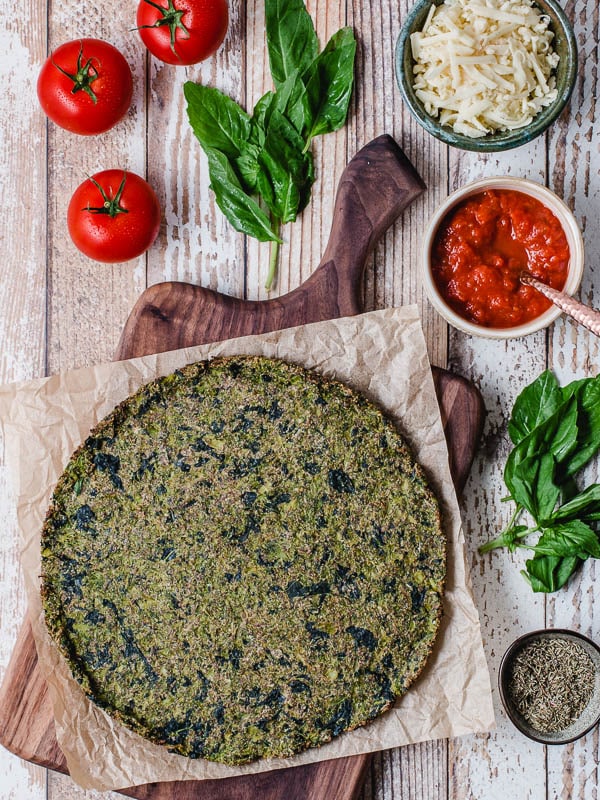 Why Is My Veggie Pizza Crust Not Getting Crispy?
Moisture is the enemy to making a low carb broccoli or cauliflower crust pizza. Once you have grated the broccoli, wrap it in a kitchen towel and squeeze as hard as you can. It's amazing how much water comes out. If you skip this step or try to use fresh broccoli, your pizza crust will never get crispy.
Bake the grated and squeeze-dried broccoli on a parchment lined sheet tray in the 425F oven for 25 minutes. This will not only dry out the broccoli, but also impart a roasted flavor.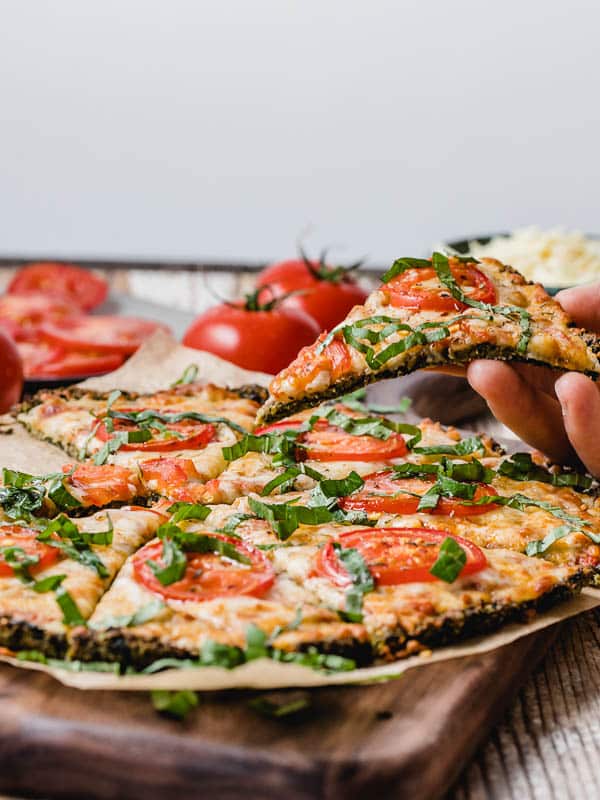 What Veggies Can I Use To Make A Keto Pizza Crust?
Now that the broccoli is baking in the oven, we can turn to the kale. This recipe calls for fresh kale, but if you want to make your life easier, use frozen spinach. I would tell you to use frozen kale, but it often has the stalks still on and you don't want that in our keto pizza crust.
If using fresh kale, I like to use black or lacinato kale. Tear the leaves from the stems and boil in salted water for 3 minutes. After it has drained and cooled, squeeze out as much moisture as possible. If using frozen spinach, thaw first, then squeeze out the water. Finely chop the kale or spinach and measure 1/4 cup packed and set aside.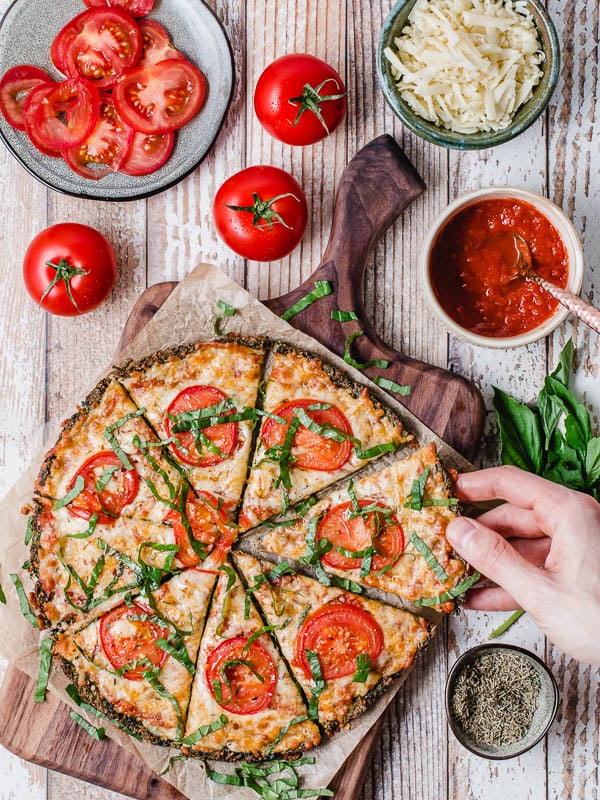 How Can I Make A Paleo Pizza Crust?
Most store bought veggie pizza crusts are loaded with corn flour and starches, making them not compliant for a paleo or keto diet. We use blanched fine almond flour (from Costco) and flax seed meal (from Trader Joe's). These plus one egg are the only binders needed to make this pizza crust crispy and delish.
Combine the baked broccoli with the chopped kale in a large bowl. Add one pasture raised egg, almond flour, flax seed meal, dried oregano and basil, garlic and onion powder, and salt. Mix until well combined and then dump the dough on to a piece of parchment paper that has a shot of oil rubbed on it. Place another piece of paper and top and use a rolling pin to make the dough about 1/4 inch thick.
Your broccoli pizza crust will not be in a perfect circle, so use a bench scrapper or the back of a knife to help form it and make a edge so the toppings don't spill over. You can also double this recipe and make the crust in the shape of a rectangle in the sheet pan. Bake for 18 minutes, or until deep golden brown.
Place your pizza toppings on, sauce first, and bake for another 7-10 minutes and toss the broiler on at the end to make the cheese golden.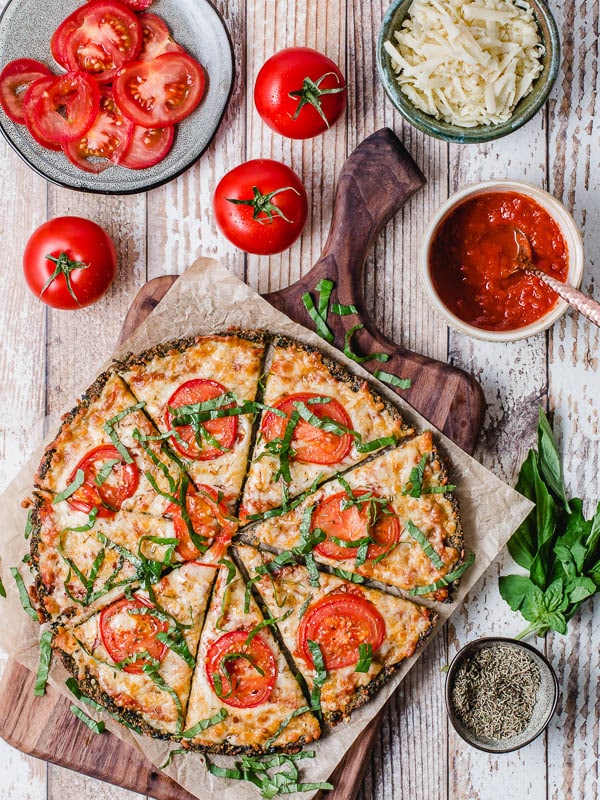 Make sure to check out these other low carb recipes: