Hi guys, Dessi here! I finally wrote the recipe for these grain free granola bars that are packed with walnuts, dried fruits, sunflower seeds, hemp heart, chia seeds and ground flax seeds. I was craving a granola bar that was free of grains and at the same time full of nutrition so I pretty much grabbed any dried fruit, nut and seed  I had in the pantry.
This granola bar recipe is so flexible that you can use any dried fruits, nuts and seeds you have on hand, just be sure to use the same proportions.  I love taking a few squares for a quick snack on the go, or serving them with an afternoon tea or even as a dessert. They are that good! Also make sure to check out my no bake paleo granola.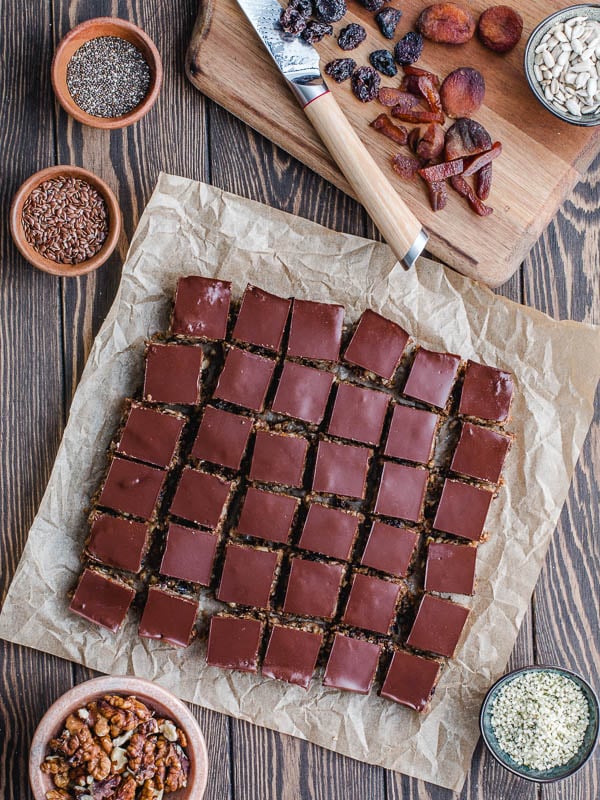 How To Make Granola Bars
To make the granola bars you first need a base of one cut of almond butter, 1/4 cup of maple syrup, a couple of table spoons of coconut oil and a little bit of vanilla. Warm that up gently over double boiler so the ingredients can come together nicely. In the meantime, chop up the dried fruits finely and add them to a food processor along with the walnuts (and/or other nuts of your choice), the hemp hearts, chia seeds and ground flax seeds.
Buzz them up a few times to break up the large nuts and mix up all the ingredients. If you don't have a food processor, just chop up the large nuts and then mix them together with the dried fruits and nuts. If you have whole flax seeds make sure to ground them first as they won't get digested properly. Then add the the fruit, nut and seed mixture to the almond butter mixture. What makes these bars super flavorful is the orange zest. That orange aroma plays wonderfully with the chocolate topping. So don't skip that ingredient, it really makes a difference.
Then all you have to do is pack down the mixture into a 8×8 inch or 8×10 inch pan and prepare the chocolate topping. Stash the pan in refrigerator of a couple of hours so that the chocolate hardens and enjoy!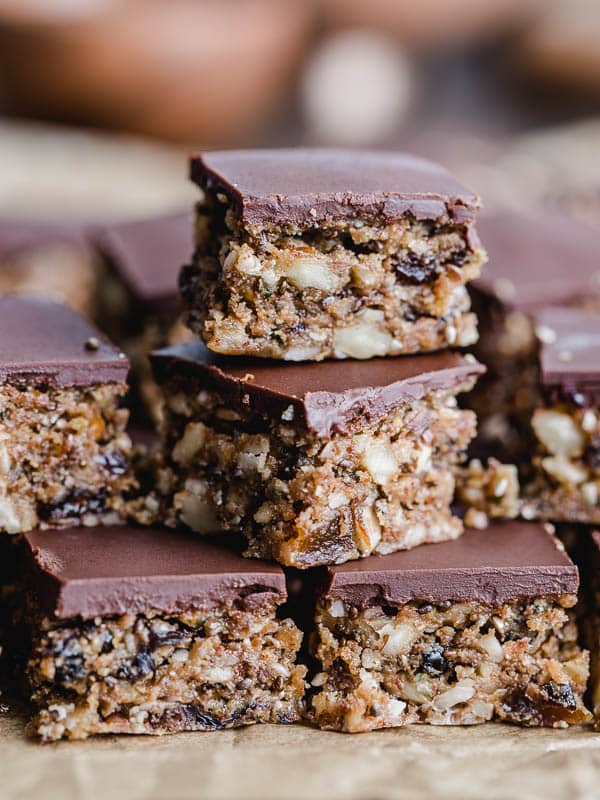 How To Make Your Own Chocolate Topping
These granola bars really come together when you add a chocolate topping to them. You can simply melt a bar of dark chocolate or a some chocolate chips and use that, but if you you want to make your own chocolate topping then use the recipe below. All you need is some cocoa butter, cocoa powder, maple syrup, coconut oil and a pinch of salt.
Add all the ingredients over double boiler and mix until the butter is melted and the mixture is smooth. Then let it cool down a bit and pour it over the packed down nut mixture.
Are Granola Bars Paleo?
Most granola bars are not paleo because they contain oats. This grain free granola bar recipe uses hemp hearts instead of oats,making them perfect for the paleo diet.
Make sure to check out my other snack recipes: