Dessi makes a tasty recipe for homemade almond milk, so she decided to film a YouTube video and share the technique with us. I'm not sure if you guys know this, but store bought almond milk only has about 7-8 almonds per cup, the rest are emulsifiers like lecithin and guar gum. Homemade almond milk does cost more money and it takes a bit of time, but the flavor and texture are unlike anything you have tried before.
You can even use some of your freshly made homemade almond milk to pour into a hot cup of bulletproof coffee, that would be a great way to start the day.
How To Make Almond Milk
The first thing you want to do is buy a big bag of almonds from Costco. If anyone knows of a cheaper price I would love to hear about it! Soak 1.5 cups of almonds in enough filtered water to cover them by an inch. It's best to soak them overnight on the counter or for up to 2 days in the fridge.
Dessi was keen to point out that the almond skins contain lectins. Lectins are naturally occurring proteins that are found in most plants. They don't have any nutritional value and are called anti-nutrients because they prevent your body from absorbing nutrients. It's easy to remove the skins after they have soaked, just pinch the almonds and they pop right off.
If you have a hard time with the skins, blanch the almonds in boiling water for 1 minute, drain, rinse under cold water, and then remove the skins. Add the peeled almonds to a blender along with 44 ounces of filtered water and blend in high for 2 minutes.
Pour the almond mixture into a nut milk bag set inside a large bowl and squeeze out the milk. You can actually reserve the leftover almond pulp and make hummus out of it, it's actually pretty decent! Pour the almond milk back into the blender along with 6 pitted medjool dates that have been soaking in just hot water for at least 10 minutes. Also add vanilla paste or extract, 1.5 teaspoons ground cinnamon, and a pinch of pink salt or sea salt.
Blend on high for 30 seconds and the almond milk is ready! For best flavor and texture, Dessi recommends chilling the milk in the fridge at least 8 hours before drinking it.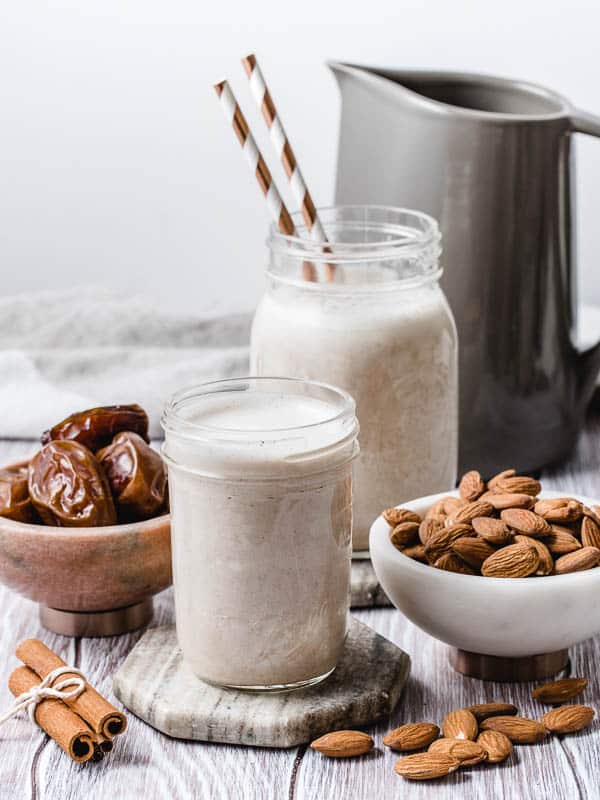 How Long Will Homemade Almond Milk Last?
Homemade almond milk will last in the fridge for 3-4 days. Once it starts to smell off, you have to toss it. You can freeze the milk if desired, it will last in the freezer for 6 months.
How Do I Make Chocolate Almond Milk?
Making chocolate almond milk is easy, just add 3 tablespoons of unsweetened cocoa powder to the blender at the same time you add the cinnamon and vanilla. Blend for 30 seconds like instructed above and the cocoa powder will mix well. You can do the same thing for strawberry milk, like mentioned in the recipe below. Just make sure to strain the milk one last time to catch the pulp.
Make sure to check out our other drink recipes: