I wanted to share with you an easy shepherd's pie recipe that is perfect for the low carb diet. All you have to do is swap starchy mashed potatoes with keto approved whipped cauliflower mash. The shepherd's pie is loaded with juicy ground lamb and lots of yummy veggies, topped with the cauliflower mash, and baked in the oven. This is the perfect dish to make ahead of time and reheat when needed.
If you are looking for more keto comfort food, make sure to check out my Mexican tater tot casserole and instant pot chicken cacciatore.
How To Make A Low Carb Shepherd's Pie Recipe
The first thing you need to do is make a keto cauliflower mash to cover the top of the shepherd's pie instead of mashed potatoes. Boil the florets from 2 heads of cauliflower in salted water with 5 cloves of garlic for 7-8 minutes. Once soft, add the florets to a blender along with 2 tablespoons of good butter, grated pecorino cheese, and blend until smooth and creamy. This keto mash is so silky and smooth, you won't even miss the potatoes.
Make the filling for the shepherd's pie by cooking the onions, celery, zucchini, and green pepper until soft. Add some garlic, tomato paste, and cook a few minutes longer. Add two pounds of ground lamb to the pan and raise the heat to medium-high. You can also use ground beef for this recipe, but then it's called a cottage pie.
To give the shepherd's pie a nice boost of flavor, I like to add 1 teaspoon of tamari soy sauce, which replaces Worcestershire sauce because it has sugar. It's like adding a little shot of umami to the pie. Add a splash of beef stock, some fresh parsley, cook a few more minutes, and then top with the low carb cauliflower mash.
Bake the shepherd's pie in a 450 degree F oven for 10 minutes and then broil on high for 5 minutes until the topping has some color. Make sure to allow the hot shepherd's pie to cool for 20-30 minutes or it will fall apart when you scoop it out.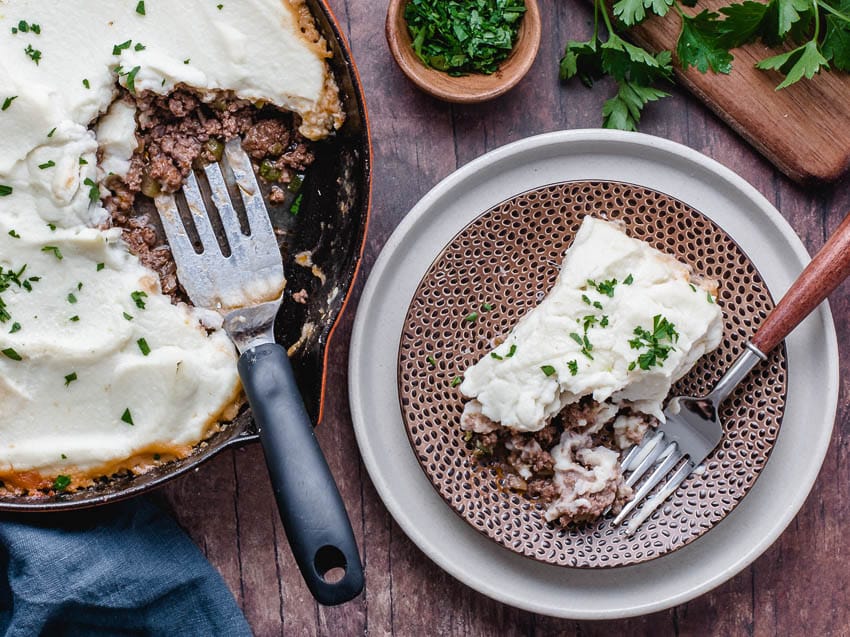 Can Shepherds Pie Be Made Ahead Of Time?
Shepherds pie is the perfect recipe to be made ahead of time as the flavors actually get better the next day. You can store the pie in the fridge for 5 days or freeze for 2 months. When ready to enjoy, thaw and heat in a 350 degree F oven for 10 minutes or until the filling is hot. This shepherds pie recipe is actually part of a meal prep in our new keto cookbook coming out in May!
Is Shepherd's Pie Made With Lamb Or Beef?
Shepherd's pie is traditionally made with ground lamb. If you want to use ground beef, then it is called a cottage pie, but will be equally as tasty.
Make sure to check out my other keto comfort food recipes: