Here's my best ever recipe for homemade salmon burgers with a creamy secret sauce. I came up with this recipe because I never had a truly epic salmon burger at a restaurant, so I decided to make one myself. I find that really good quality farm raised salmon is best because it's so fat and the salmon burgers won't overcook.
All you have to do for this salmon burger recipe is mix everything in the food processor and cook the patties. It's super easy! After you try this recipe, take a look at my shrimp burger with jicama fries.
How To Make Salmon Burgers
This salmon burger is very easy to make, all you need to do is combine all of the ingredients in a blender or food processor and the mixture is done. Add 2 pounds of cubed salmon, avocado oil mayo, capers, lemon zest, green onions, ans salt to a food processor. I find this recipe works well with high quality farmed Atlantic salmon because it's so fatty and hard to overcook.
If you want to use wild salmon, add 1 more egg to the mixture along with another 2 tablespoons of mayo. Pulse everything until the salmon burger mixture is smooth, but still has a few chunks here and there. Chill the mixture in the fridge for 15 minutes up to 2 hours.
Form 3-4 salmon burger patties and cook them in a large non-stick pan set over medium high heat with a 1 tablespoon of avocado oil. You will need to work in two batches as to not overcrowd the pan. Last up, griddle you buns of choice in some butter or oil in a non-stick pan.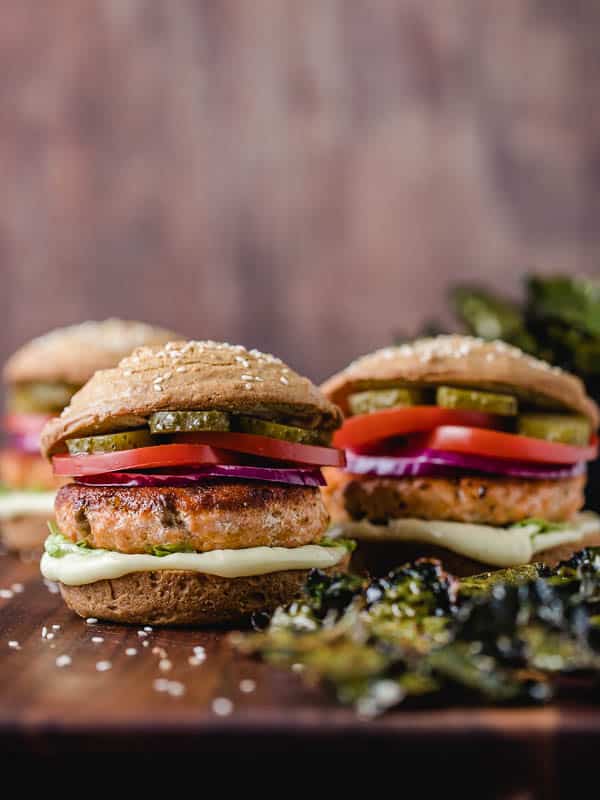 How To Make Secret Sauce
This is my homemade version of the secret sauce you would find a McDonald's, but mine is much healthier! Combine avocado oil with with sugar free ketchup in a small bowl along with dill relish, hot sauce, and lemon juice. Mix well and check for seasoning. You want the flavors to be slightly acidic.
Assemble the salmon burger with the buns, some secret sauce, and the salmon patty. I like to mash some avocado and add that to the salmon burger. Enjoy!
Make sure to check out my other recipes: