After ordering the whole menu at Chick-Fila-A for a fast food video, I realized why people loved it so much. It's tasty, but the ingredients are horrific!
If you love the Chick-Fila-A sauce, my copycat recipe is spot on! It's made with honey, chipotles, avocado mayo, and totally Bobby Approved. Pair the Chick-Fila-A sauce with crispy gluten free chicken tenders and your family will love it.
Make sure to try my Starbucks egg bites recipe also.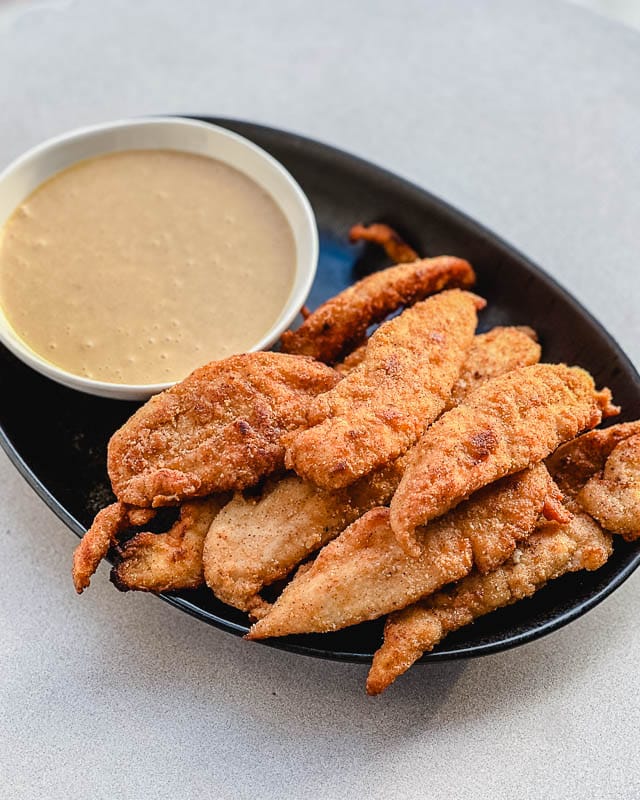 How To Make Chick-Fila-A Sauce
To make the Chick-Fila-A sauce at home, but with much cleaner ingredients you will start with avocado oil mayo. Add half a cup of mayo to a bowl along with yellow mustard, a few drops of chipotle hot sauce, lemon juice, smashed garlic, BBQ sauce, and honey.
Before adding the garlic, mince it finely, pinch some salt over, and use the flat side of your knife and smash the garlic into a paste. By doing this, the garlic will melt into into the Chick-Fila-A sauce.
Check for seasoning, you may need a touch more salt or honey. Sauce will last 3 days in the fridge.
How To Make Gluten Free Chicken Tenders
To make the breading of these chicken tenders gluten free, swap out all-purpose flour with paleo flour mix.
I use the Bob's red mill paleo baking mix, but you can also make your own by combining almond flour, coconut flour, tapioca starch, and arrowroot starch.
Add 1.5 cups of the flour mix to a 9×13 baking dish and season with smoked paprika, chili powder, onion & garlic powder, dried thyme, salt, and pepper. Mix well.
Season the chicken tenders with a good pinch of salt. Coat the tenders in the seasoned flour, making sure they are covered well. Shake of any excess and move to a wire rack set inside a sheet tray.
Allow the coating to rest for 15-30 minutes, this will help it stick to the chicken tenders.
Add enough avocado oil to the bottom of a wide cast iron pan. Heat oil to 350F and pan fry the chicken tenders in batches, making sure not to overcrowd the pan. The chicken tenders will take about 3 minutes on the first side and 2 minutes on the second side.
Once the tenders are done, move them to a cooling rack and cook the next batch. Serve the chicken tenders with Chick-Fila-A sauce and enjoy!
Make sure to try more of my recipes: