Dessi has been making strudel recently on the FlavCity Instagram stories, and it's time to share the recipe. The strudel is perfectly sweet thanks coconut sugar and the entire recipe is light and flaky.
How To Make Homemade Strudel
You can use pumpkin or acorn squash for this strudel recipe. The first thing you want to do is peel and chop the pumpkin and grate it on the largest setting of a box grater.
Toss the grated pumpkin with coconut sugar and cinnamon and set aside. Roll out two layers of phyllo dough. We used organic whole wheat phyllo dough from the frozen section of Whole Foods.
Add a few tablespoons of pumpkin mixture to the phyllo dough and roll it like a cigar. Brush liberally with melted butter and repeat with remaining phyllo.
Bake at 375F until golden brown, about 45-55 minutes. If you want to make this strudel with apples, you will need 3 large honeycrisp apples, and once you grate them you need to squeeze out most of the juice.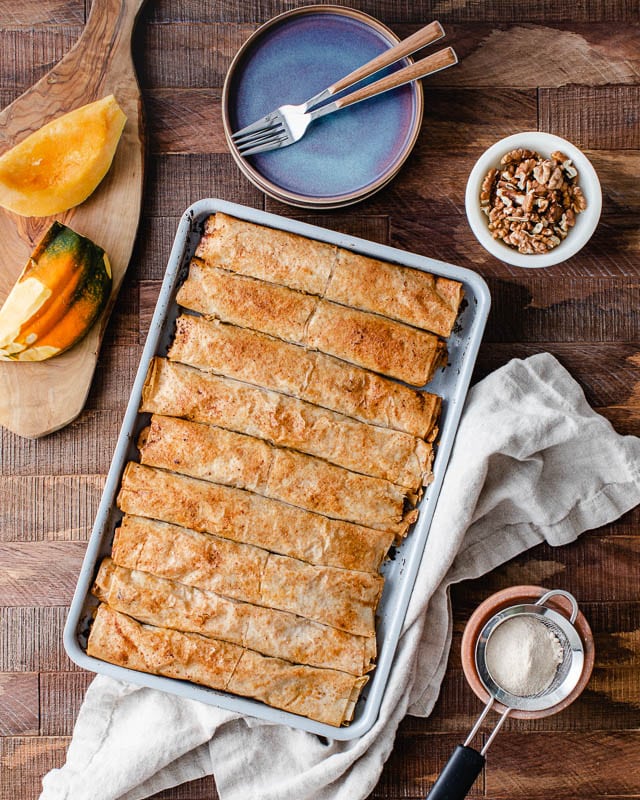 Make sure to try more of Dessi's tasty recipes: